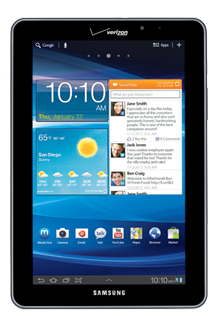 The Samsung Galaxy Tab™ 7.7 is the Thinnest 4G LTE Tablet that you'll find on the Verizon network. This tablet is only 0.31" thin and weighs just 12 ounces. Now if only this tablet came with a smart stylus pen, I might be tempted to get in line...
The Droid Xyboard tablets by MOTOROLA are 0.35" thin, so that's pretty impressive as well. The Xyboard is available as an 10.1" screen or an 8.2" screen. The 10.1" Droid Xyboard can use a smart stylus pen, but the smaller 8.2" does not.
The new iPad seems quite thick in comparison if you consider that it's now 0.37" thick. (the iPad 2 is 0.34" thick)
You'll see that I'm still a big fan of using a "smart" stylus pen with my tablets. Terminology around stylus pens can get quite confusing these days. Samsung has added to the confusion with their S Pen for the Samsung GALAXY Note (a 5.3" phablet - is it a phone or a tablet device) that comes with an S Pen stylus that uses a different technology compared to the N-Trig or Wacom-based stylus pens.
My main tablets these days are: the HP Slate running Windows 7 (uses an N-Trig stylus pen) and the Lenovo ThinkPad Tablet running Android (uses an N-Trig stylus pen). Both of these use the same type of stylus pen, so I can switch back and forth. Neither are super-thin. Neither has built-in 3G or 4G, so I carry a 4G MiFi with me when I go out with a tablet.