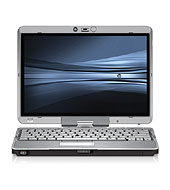 I've been an IBM/Lenovo ThinkPad user for many years. Decades. It's time for a change, so I'm going to be switching to the HP EliteBook 2700p tablet PC series. The current models include 2730p and the 2740p tablet PC series. These devices are similar to the ThinkPad x200 tablet series in that they're both thin and light with 12" screens.
Both computers are really great machines. However, my computing needs have evolved over the past 2 years and so it may be time for a change. The HP EliteBook has a quieter keyboard (important when you're attending a meeting and typing quickly). The EliteBook also has a pop-out LED light (for those who work in the dark, this is indispensable).
The ThinkPad is built like a tank and you get a full-size keyboard. It's really great for business users who don't mind typing on a keyboard that makes a bit more noise. Believe me, I'm not getting rid of my ThinkPad. It's currently my office laptop and I bring it home so that I can blog at night. Now, I'll leave my ThinkPad at work and I won't bring that home every night. The EliteBook will become my dedicated laptop for my home office. This should lighten up my briefcase. When I travel, I'll carry the EliteBook since it's slightly smaller and lighter.