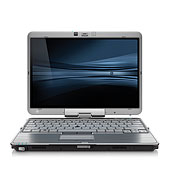 If I had to buy a new laptop, I'd really like to get one that has illuminated keys since I do a lot of typing at night (in the dark). My wife has a MacBook Pro, so her keyboard lights up. My current Lenovo Thinkpad X200 tablet lacks any type of built-in keyboard illumination.
A few months ago, I had the chance to review the HP EliteBook 2730p tablet PC that also has a built-in LED light at the top of the screen. This light pops out and shines down on the keyboard. It's a great feature if you're typing on the plane or in a dark setting (such as a radiology suite).
HP is preparing to release the EliteBook 2740p and the biggest new feature here is the option for a multi-touch screen. When my ThinkPad dies, I may need to switch to the EliteBook since I'm finding that keyboard illumination is a key feature that I'm not willing to bypass if I can find it in another machine.